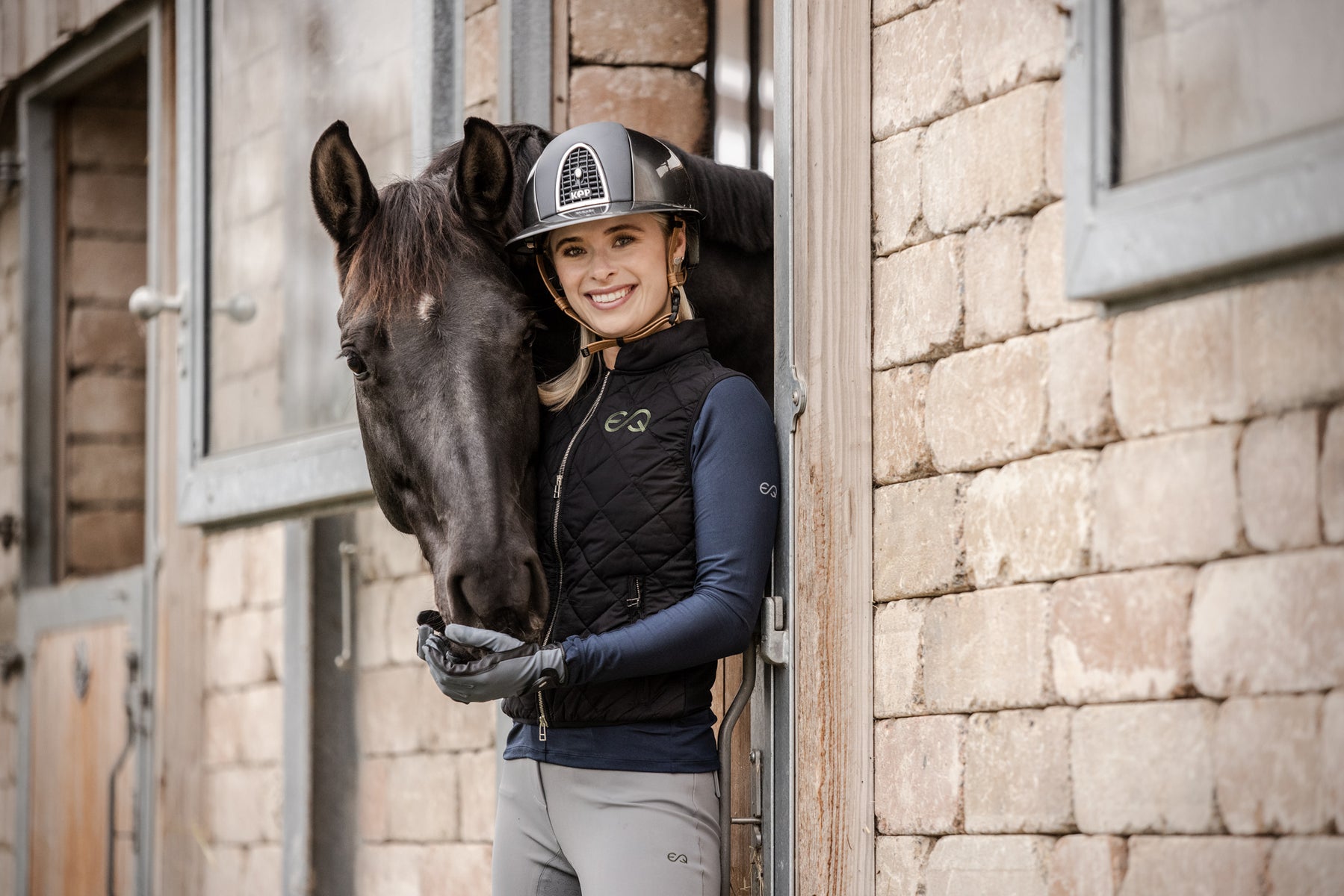 TEAMWORK MAKES THE DREAM WORK
Together with successful professionals, trainers and up-and-coming talents we want to make equestrian sports more sustainable. We work with responsible riders that do not only focus on athletic performance but want to make a change in equestrian sports.
You want to be a part of?
We are looking forward to your message!
We can only make real change if we work together. All our team riders value high quality, sustainable products.
Ava Ferch
Die erst 13-jährige Ava Ferch konnte bereits einige Erfolge feiern. Vor allem dieses Jahr glänzte sie in der Altersklasse Children und war dreimal siegreich, unter anderem beim Bundesnachwuchschampionat Junioren in Hagen.
Besonders stolz kann Ava auf ihre Goldmedaille bei den Europameisterschaften im Springreiten sowie ihren ersten S-Sieg sein. 
Gemeinsam mit der hoch talentierten und sympathischen Ava freuen wir uns auf eine spannende Zukunft – vor allem im kommenden Jahr in der Altersklasse Pony und Junioren. 
Matthias Alexander Rath
"Horses are my passion, my mission, my past and also my future." This quote beautifully describes the reason why Matthias Alexander Rath is a true win for #teamequimus. His family has been involved in equestrain sports for generations and Matthias is an internationally successful dressage rider. With Sterntaler-Unicef, he became german champion in 2008 and has been a known name in dressage ever since. Since 2008, he's had more success on highest international level with his "Wonder-Horse" Totilas.
Since 2016, Matthias has been working on his beautiful Gestüt Schafhof. With his training horses, he has had international success up to the inermediaire level. With his stallion Destacade he became vice world champion of young dressage horses in 2018.
We are incredibly happy to welcome such a nice and successful rider to our team. He and his family embody our vision. We will make a change in equestrian sports together.
Diana Porsche
Diana Porsche has been crazy for horses ever since she was little. From her first pony when she was 12 to win after win at youth and U25 European championships she can look back at a steep career.
Now she has arrived in the world of professional equestrian sports and we are very happy to look into an exciting future with highly talented and wonderful Diana. You can learn more about Diana, her horses and her beautiful riding facility in Austria here: hier.
Alina Kaltstein
Alina Kaltstein grew up on the family-owned riding facility Mooshof and has been spending time with her beloved horses since she was little. Now, she has turned her passion into a profession and finished her apprenticeship as a horse trainer at 22.
After countless successes up to dressage class S, Alina has been sitting in the saddle of imposing Uphill-descendant United Europe since 2020. The two of them have been in wonderful harmony since the beginning. At the DJM in Riesenbeck 2020, this has been honoured with a prize for harmony next to a sixth place.
Alina crowned her successful career in equestrian sportss in 2021 with the golden riding badge. We are very happy to have the talented and wonderful rider from Munich in our team.
Kira Wegmann
25-years-old Kira Wegmann owns a riding facility in beautiful Rheine. Her successes range from dressage tests for young horses to more and more difficult levels.
Training young horses is not only her passion, but her profession. She works in the training training stable Albers in Neunekirchen, as well as the training stable Kandziora. Her first pony Sandro, that has gone every step of the way with her, lives with her parents-in-law. At 24 years old, he is enjoying retirement there and is getting coddled by her boyfriend'S little niece.
Isabelle Gerfer
Riding has always been a part of Isabelles family life. As a teenager, she was already part of the German national team for horse jumping.
Since 2019, Isabelle works independently as a trainer for young horses and riders. In 2019, Isabelle became champion in Rheinland-Pfalz above level S**. In 2020, she was able to get 100 ranks for Youngster jumping to level S***. In the following year, she got 70 ranks in the same area.
We are excited to welcome ambitious rider and young mother Isabelle Gerfer to our team.
Liselott Marie Linsenhoff
We are happy to introduce Liselott Marie Linsenhoff as a member of #teamequimus. While she is only 19, she is a highly successful dressage rider with countless international successes. At only 11, Marie took part on her first German Championship and won the south-German championship in the same year. She made it to rank 5 in the U16 world ranking. 14-year-old Marie was nominated as reserve rider for the U18 European championship and became champion in Hassen in 2019.Next to equestrian sports, Marie is passionate for fashion. She has founded her own label LML Designs and is studying fashion design in Paris. Sustainability is of utmost importance to Marie, her family and the
Gestüt Schafhof
. We are proud to have Marie on our team and work with her on making equestrian sport sustainable and fashionable.
Ann-Sophie Seidl
Ann-Sophie Seidl is one of the best German up-and-comping horse jumoing riders. She has been Bavarian champion in 2017, as well as South-German and German champion in 2018. Ann-Sophie is internationally successful, competing in Nations Cups. Her dream is to one day take part in the CHIO in Aachen. Next to her athletic ambition, Ann-Sophie has a great sense of responsibility for her horses and the environment. She truly enriches our team and we are happy to accompany this talented young woman on her way.
Jana Lang
Jana Lang is only 17 and one of the best German up-and-coming riders: Two times German vice champion, four times third place in European championships and three times European team champion. With her two horses Davy Jones and Baron, Jana is a member of the German national team. Jana is not just a young, talented and ambitious rider - she also greatly values sustainabiity in her life. That is why she makes a perfect addition to our team.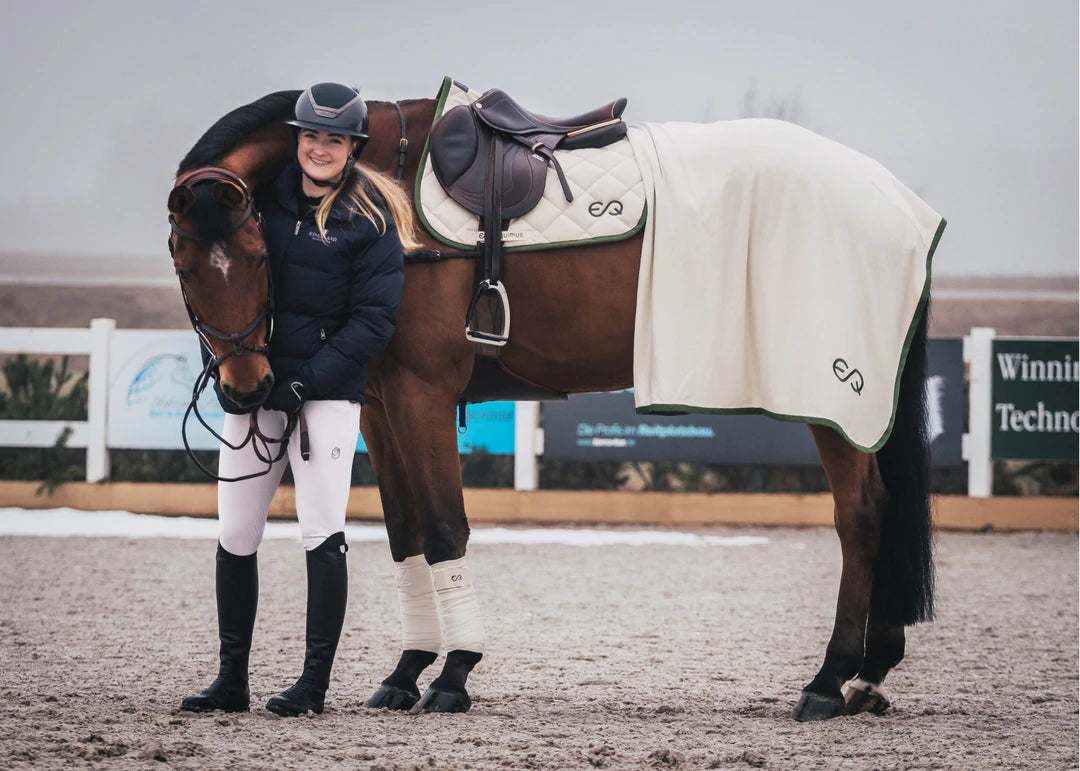 Nora Läufer
Nora has been a member of the Bavarian youth team for years and can look ahead to a future of being a professional rider. She has won countless national and international tournaments and young riders grand Prix. Nora is internationally positioned for horse jumping up 1,50 m. Sje wants to compete for the U25 jumping cup and the EY Cup in 2021. We are happy to welcome the young, talented German jumping rider Nora Läufer in our team.
Lisa-Maria Klössinger
Lisa-Maria has been two-times U25 European champion in 2017 and won gold with her team and bronze solo in the U25 European championships 2018. In 2019 Lisa-Maria fulfilled her dream of owing a riding facility and made her passion into a profession. Since then, she is training and marketing high class dressage horses with #kloessingerdressageerfolgreich in der Ausbildung und Vermarktung von Spitzen-Dressurpferden tätig.
Charlotte Whittaker
Charlotte Whittaker is one of the best up-and-coming talents in German sports. She was born in Stirling, Scotland has has been crazy for riding eve since. Charlotte has been living in Germany since she was four years old. In 2012, she took part in her first European pony-championship with her pony Marek. In 2014, she became a member of the junior national team and was able to compete in the European junior championships with her horse Lady Brown in 2017. Charlotte can not only look bacck on a row of successes and ranks on international championships up to leven CCI3, she is also successful in horse jumping up to level S. With her two young horses Isa and Ister Lilly, Charlotte has uncredibly talented horses in her stable that we can't wait to hear more from. We are incredibly happy that wonderful Charlie is part of #teamequimus and wants to make a sustainable change in equestrian sports with us.